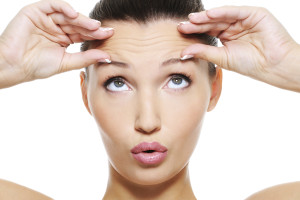 Are you troubled with worry lines, frown lines, laugh lines or crow's feet? Many people solve these problems with BOTOX® Cosmetic. These changes of age are called dynamic wrinkles because they are cause by contractions of the muscles of the face. Botox relaxes these facial muscles to smooth the skin and iron out these unflattering wrinkles.
BOTOX® Cosmetic is a simple, nonsurgical, physician-administered treatment that can temporarily smooth moderate to severe frown lines between the brows and lines around the eyes and forehead in people from 18 to 65 years of age. One 10-minute treatment and within days there's a noticeable improvement in moderate to severe frown lines between the brows, which can last up to 4 months. Results may vary.
During treatment, very low doses of BOTOX® Cosmetic are administered via a few tiny injections directly into the muscles responsible for frown lines between the brows. By blocking the release of a chemical that causes these muscles to contract, BOTOX® Cosmetic enables them to relax. These effects are very localized and, when administered by an experienced physician do not affect your ability to smile, laugh or otherwise show expression.
No anesthesia is required, although your doctor may choose to numb the area with a cold pack or anesthetic cream prior to injecting. Discomfort is usually minimal and brief.
You can expect to be in and out of the physician's office with no downtime. You may see a marked improvement in the moderate to severe frown lines between your brows within days. Improvement may continue for as long as a month.
Botox can:
Tighten skin on the forehead, around the eyes and other areas of the face
Potentially help reduce migranes
Help to lift brow lines
Decrease excessive sweating
When having Botox Treatments, please keep these tips in mind:
We encourage you to have treatments done at least 2 weeks prior to any special events.
Avoid any anti-inflammatory/blood thinning medications for a period of 2 weeks before treatment.
Avoid alcoholic beverages 24 hours before treatment.
No straining, heavy lifting or vigorous exercise for 3-4 hours following your treatment. It takes the toxin approximately 2 hours to bind itself to the nerve terminal.
Avoid any type of manipulation (facial, peel, microdermabrasion) for 3-4 hours following your Botox Treatment.
Stimulate the binding of the toxin by doing facial exercises for an hour after your treatment.
Do not lay down or bend over for 3-4 hours following your treatment.
View our Frequently Asked Questions about BOTOX Here
Before and After Photos of BOTOX Treatments: