Microblading, sometimes called 3D eyebrow sculpting, is a semi-permanent solution to sparse, over tweezed, over waxed and thinning brows. Want full brows? Microblading creates natural looking eyebrows for women and men with very little to no brow hairs.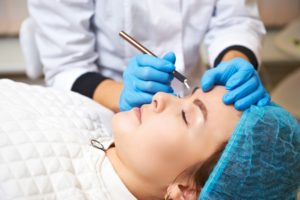 Microblading on Long Island includes using a handheld tool with a very fine needle to deposit pigment into the skin. The needles used are thinner than those used in permanent makeup procedures, creating the fine, crisp hair strokes. The microblading specialists at North Shore Medical Spa use years of experience and extensive training to create aesthetically pleasing brows that compliment your facial structure.
Microblading on Long Island is a two-appointment procedure. During the first appointment, a consultation with a technician will determine your goals and options for successful microblading. If there are no contraindications, you can receive your first application during your initial appointment. After 4-6 weeks, a second appointment will be scheduled for your final application.
During both appointments, your technician will utilize a numbing cream to ensure maximum comfort. Most clients report a relatively painless procedure. Following the appointment, you will be provided with aftercare instructions. It is important to thoroughly follow these instructions to avoid scarring and ensure flawless brows.